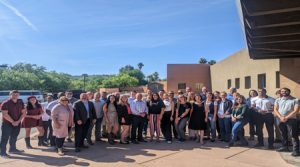 Tucson, AZ, (June 21, 2023)  – The Southern Arizona CCIM Chapter is proud to announce the successful completion of the CI 101 Course held in early June. The four-day course was attended by 34 participants, beginning their journey to pursue their CCIM designation. The CCIM (Certified Commercial Investment Member) CI 101 Course is the first and most essential step towards obtaining the CCIM designation – the highest honor bestowed in the commercial real estate industry. The course focuses on the fundamentals of commercial investment real estate, such as financial analysis, market analysis, user decision analysis, and investment analysis – all essential skills required to become a successful real estate professional.
Attendees of the course found the content highly engaging, informative, and insightful, with many remarking on the value of the networking opportunities afforded during the event. "The CI 101 Course was an amazing opportunity to expand my knowledge of commercial real estate and meet several professionals in the industry," said one participant.

The Southern Arizona CCIM Chapter takes pride in providing quality education and networking opportunities to the Southern Arizona real estate community. Southern Arizona CCIM Chapter's President, Michelle Cunnigham, praised the success of the course, stating, "It's incredibly gratifying to bring this type of education and networking event to the local real estate community. Tucson has a vibrant commercial real estate market, and the success of the CI 101 Course is a testament to the dedication and hard work of the Southern Arizona CCIM Chapter."
The Southern Arizona CCIM Chapter looks forward to offering more successful courses in the future. For more information about the CCIM designation and upcoming classes, please visit ccim.com.
Southern AZ CCIM Chapter's next monthly meeting is on July 11th, where they will be discussing the current state of the Office Sector in Tucson with our esteemed guest panelists: Mark Irvin, CCIM, SIOR, Scott Douglas, West Coast Capital, and Jose Arias, First Citizens Bank. Together, they bring decades of experience and knowledge to the discussion. Attendees can expect to learn about trends within the office market. This is a unique opportunity to hear firsthand from industry experts and network with other real estate professionals. The Event is on June 13th, from 11:30 am - 1:00 pm, at the Doubletree by Hilton Reid Park, Ballroom Room, 445
S Alvernon Way, Tucson, AZ 85711. Registration fee is $45 for Chapter Members and $75 for Guests. Register HERE.
After the lunch meeting, the Southern Arizona CCIM Chapter hosts a Department of Real Estate Credit Class from 1:30 - 4:30 p.m. July's Disclosures and the Commercial Transaction - Category Disclosure class. Learn how to make disclosures per Arizona Statutes and Commissioner's Rules. Find out how to properly document disclosures to protect yourself from a negligent misrepresentation claim. Registration fee is FREE to Chapter Members and $40 for Guests. Register HERE.
To learn more about Southern Arizona CCIM Chapter's upcoming events, please visit southernazccimchapter.com.