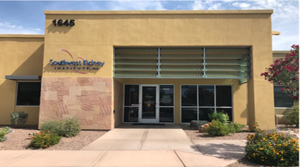 TUCSON, ARIZONA -- Tucson Swan Dialysis has completed the sale of two medical office buildings leased by Southwest Kidney Institute (SKI). Together, the buildings total 10,826- square-feet and are 100 percent leased by Southwest Kidney Institute (SKI) and a partnership between SKI and DaVita dialysis services (NYSE:DVA).
The two-building sale achieved a cumulative price of $3.8 million in an off-market, sale leaseback. The buyer is Cypress West Realty Partners of Rancho Santa Margarita, CA in two affiliate investment groups formed as limited liability companies.
The buildings are located at 1635 North Swan Road in Tucson and 1645 North Swan Road in Tucson, both built in 2016, with 5,889-square-feet and 4,937-square-feet, respectively.
Both buildings reflect key attributes that investors look for in medical office space. That includes strategic locations next to a major hospital and credit tenants who are likely to remain in place because of area demographics and high-end build-outs.
Southwest Kidney Institute is a medical group practice that specializes in Nephrology. It is  physician-owned private practice and provides comprehensive care for kidney disease and hypertension along with dialysis and vascular access services. The group owns and operates 41 locations throughout Arizona with more than 60 Board Certified, fellowship-trained physicians.
The buildings sit near the intersection of Swan and Pima and are minutes from Tucson Medical Center.
To learn more, see RED Comp #9104 and #9105.