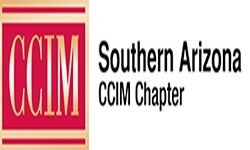 The Southern Arizona CCIM Chapter will be giving its market predictions for 2016 on Tuesday, February 9th at the 25th Annual CCIM Market Forecast Competition, the longest running competition in the nation.  There local commercial real estate brokers, lenders and appraisers specializing in the office, retail, multifamily, land, industrial and financing sectors will offer their thoughts, insights and opinions for the new year.
Continuing a long local CCIM tradition, a new Tucson Commercial Real Estate Legend will be honored. Jim Marian of Chapman Lindsey and George Larsen of Larsen Baker founded the tradition to give special recognition to those pioneers, visionaries, contributors, gamblers and risk takers who have helped shape our local market. This year's inductees into Tucson Legends will be Robert Sarver and family.
This year's keynote speaker will be Arizona Real Estate Commissioner, Judy Lowe and Robert Sarver, majority owner of the National Basketball Association franchise Phoenix Suns. In 1984, Sarver founded the National Bank of Tucson (which he expanded statewide and changed the name to the National Bank of Arizona). In 1990, he co-founded the real estate company Southwest Value Partners with Millard Seldin. In 1994, he sold the National Bank of Arizona, then the largest independent bank in the state, to Zions Bancorporation. In 1995, Southwest Value Partners purchased the Emerald Plaza in San Diego. In 1995, he acquired Grossmont Bank, one of San Diego's largest community banks. Grossmont was also sold to Zions Bancorporation in 1997. In 2004, his jointly owned real estate firm, Southwest Value Partners, sold the Emerald Plaza and two other San Diego office buildings to Santa Ana real estate firm, Triple Net Properties, for $274.5 million. In 1998, he led Zions Bancorporation's acquisition of Sumitomo Bank of California. In 2003, he became chairman, president, and CEO of Western Alliance Bancorporation.
If you are wondering where year-end vacancy rates will be? Where Tucson's market is heading? What sectors will see the most growth? In one afternoon, attendees will walk away with a working knowledge of the current market conditions and insight into emerging opportunities. Now more than ever, you need to check in with what the experts are seeing in the market and expect to see as the year unfolds and attend the 25th Annual CCIM Market Forecast Competition to hear and meet the experts.
The 2016 panel experts will be:
Retail
Nancy McClure, Gary Heinfeld, CCIM; Scott Soelter NAI Horizon and APPRAISER Carl Boode, Axiom Appraisals
Office
Rick Kleiner, Cushman & Wakefield Picor; Aubrey Finkelstein, Vast; Jeff Casper, CBRE; APPRAISER: Mike Naifeh
Land
Jim Marion, Chapman Lindsey; Rick Sack, SRES Long Realty; Aaron Mendenhall Chapman Lindsey
Multifamily
Chuck Corriere, Keller Williams; Mike Chapman NAI Horizons; and Lance Parsons, ABI Multifamily
Industrial
Russ Hall Cushman & Wakefield PICOR; Jesse Blum, CBRE; Terry Lavery, Tucson Realty & Tucson; APPRAISER: Craig Johnson
Finance
Lars Larson, Bank of the West; Mike Trueba, Commerce Bank; Gary Molenda, BDFC
Register now for the CCIM Market Forecast Competition
(seating is limited-only 40 seats left!)
Tuesday, February 9th, 2015
at the Marriott Tucson University Park
880 E 2nd Street Tucson AZ 85719
Click Here for online registration
FREE Improved Parking, Coffee Break and Snacks, Cocktails and Reception Appetizers.
And approved for 3 hours of ADRE Continuing Education Credit - Legal Issues!
For more information, please contact Aaron Reid at sazccim@tucsonrealtors.org
Or contact a member of the CCIM 2016 Board of Directors:
Greg Boccardo, President
520-955-0777 greg@gregboccardo.com
Melissa Lal, President Elect
520-296-0200 melissa@larsenbaker.com
Jane Holder, Treasurer
520-820-0171 janeyholderaz@gmail.com
Brandon Rodgers, Past President
520-546-2714 brodgers@picor.com