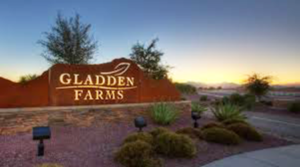 MARANA, ARIZONA — HSL Gladden Farms, LLC (HSL Properties, Inc., Omar Mireles, President), closed on 17 acres in Block 43 of the Gladden Farms master-planned community. The parcel is located at the NWC of Tangerine Road and Clark Farms Boulevard in Marana. The parcel was sold by the developer Gladden Phase II, LLC (Crown West Land Group, Dean Wingert, Vice President).
This block will be planned for future multi-family development. Gladden Farms is a 1,350-acre master planned community in northern Marana, just west of Interstate 10 between Tangerine and Moore Roads. The master-plan was the top performing community in the Tucson area in 2021 and is home to 6 home builders - Meritage Homes, Richmond American, Lennar, Pulte Homes, KB Home, and Mattamy Homes.
Gladden Farms continues to have a record-breaking year both in land and lot sales as well as SFR permitting. The master plan has seen a surge in acquisition and development activity that continues to make it the most sought-after project in Marana.
Will White and John Carroll of Land Advisors Organization in Tucson handled the transaction and have the marketing assignment for all of Gladden Farms.
"Gladden Farms has surpassed all expectations over the past 18 months and this purchase is a solid statement for the future of this area," commented White. "HSL Properties has been extremely selective of their acquisitions for future projects and Gladden Farms is a proven MPC with substantial upside over the coming years."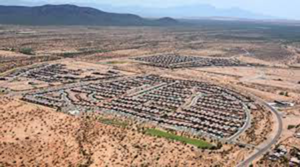 Tucson's Star Valley MPC Continues to roll with Lennar adding more lots in December
In a second transaction, the Star Valley master-planned community in Tucson's southwest sub-market continues a red hot 2021. Lennar Arizona, Inc purchased an additional 101 lots (45'X110') in Block 4 that will serve as next phase for the homebuilder. Lennar is currently selling in it's Star Valley Destiny Collection.
This purchase comes on the news of Meritage and Richmond American also both adding to their respective positions in the masterplan. Las Patrias at Star Valley (Meritage) and Seasons at Star Valley(Richmond American) have been extremely strong and have signaled a renewed strength to Tucson's southwest submarket. This activity has fueled the demand for additional lots to be purchased and prepared.
The project was initially purchased by Michael Geddes and Rick Andreen of Scottsdale in 2019. Earlier in 2020, Geddes and Andreen partnered with Sunbelt Holdings to develop the remainder of the project. Sunbelt Holdings has emerged as one of the largest master-developers in the Tucson region, developing well-known projects as La Estancia, Red Rock Village, and Sycamore Canyon.
The transaction was handled by Will White and John Carroll of Land Advisors Organization in Tucson. Land Advisors has the marketing assignment for all lot sales at Star Valley
"The Star Valley MPC has had a very strong 2021. The southwest submarket is proving to be a solid area with a large amount of demand for new housing," said White. "The project has a significant amount of lots being prepared for 2022 and is making the process very streamlined for the homebuilders to continue to operate without disruption. In 2022 Star Valley will pick up right where it left off."
To learn more, White and Carroll can  be reached in their Tucson office at 520.514.7454.