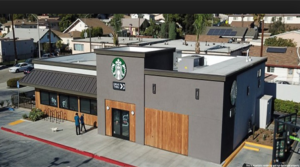 TUCSON, Arizona – Wong Family Limited Partnership acquired the Starbucks Coffee restaurant at 3001 N Swan Road for $2.15 million ($817 PSF) as a triple net investment.
The seller, ADG Swan LLC (Steve Grimm and Marcel Dabdoub, members) an affiliate of Aspen Development Group, bought the former Chad's Steakhouse site on the northwest corner of Swan and Fort Lowell in 2014.  The cowboy's steakhouse was beyond repair after a fire in 2012 that caused extensive water damage to the building when a fire sprinkler went off with the alarm. Aspen Development Group bought the property, razed building, redeveloped it and leased it successfully to Starbucks.
Swan Road serves as a main gateway route to and from the Tucson Foothills. The property is kitty corner to the upscale Plaza Palomino and within walking distance of Camp Lowell and Swan offices.
Tucson-based brokers, Steve Grimm and Juan Pantoja with Grimm Commercial represented the seller and Jeramy Price of Volk Company represented the investor.
For additional information, Grimm should be reached at 520.323.9752 and Pantoja is at 520.795.5200. Price should be contacted at 520.326.3200.
To learn more, see RED Comp #6797.