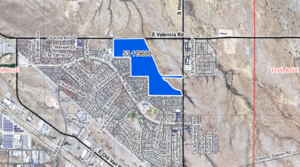 TUCSON, ARIZONA -- Much needed housing in Tucson was the focus of 184 acres State of Arizona land near Valencia and Houghton Roads in Tucson that appraised at $14.5 million that was auctioned Wednesday.
The winning bid was $44 million and the Winning bidder:  American Homes 4 Rent (AMH) of California, a new builder to Tucson building single family homes to rent rather than for sale.
State trust land was granted to Arizona by the federal government in preparation for statehood in 1912. Arizona is one of 21 states that manage a total 500 million acres.
Every acre is held in trust and managed by the Land Department for the sole purpose of generating revenues for 13 beneficiaries. Beneficiaries receive designated payments generated from the sale of trust property, interest on the property loans, leases and fees.
Arizona's K-12 schools are the top beneficiary, receiving about 80 to 85 percent of monetary benefits from the sale and lease of trust parcels. Approximately 8 million acres of trust property is designated for K-12 public education.
Other beneficiaries are the state's three public universities, the Arizona School for the Deaf and the Blind; the state legislative, executive and judicial buildings; the Arizona State Hospital in Phoenix; the Arizona Pioneers' Home in Prescott; the Arizona Department of Juvenile Corrections; and the Arizona Department of Corrections.
For additional information on this property, see the auction flyer and Auction Notice.