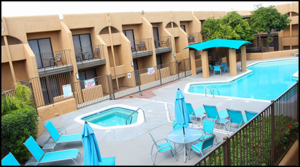 TUCSON, ARIZONA – New York-based, Procaccianti Companies, the premier privately-held owner and developer of quality hospitality assets, acquired Stay Tucson Inn & Suites at 5251 S Julia Drive in Tucson for $3.7 million ($21,366 per room). TPG Hotels & Resorts, Procaccianti Companies' wholly owned operating company, will manage the 172-room hotel.
The newly converted Stay Tucson Inn and Suites is an authentic Southwestern, adobe-style hotel nestled among native Palo Verde trees and saguaro cactus and at sight distance from I-10. Centrally located near the airport, the 3-story hotel is in the heart of the Sonoran Desert and nearby many Tucson attractions including the Pima Air and Space Museum, downtown Tucson, University of Arizona, Davis-Monthan Air Force Base and Biosphere II. Stay Tucson provides convenient amenities such as transportation to Tucson International Airport.
Built in 1984 and renovated in 2012, the hotel has 4,240-square-feet. of meeting space, free Wifi and parking and complimentary full hot breakfast.
San-Diego based, PacVentures (Andrew Kaplan, CEO) and RAR Hospitality were the sellers, specialized in the acquisition and development of industrial, retail, and office properties located in the Southwestern United States. Privately owned, PacVentures focuses on value enhancing opportunities with significant principal involvement. With more than 25 years of hospitality excellence, RAR Hospitality (Bob Rauch, founder/CEO) offers the full spectrum of hospitality management services to hotel and resort owners, developers, lenders, and investors.
PacVenture purchased the former Quality Inn & Suites Hotel in 2015 for $2.3 million ($13,372 per room).