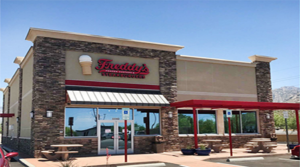 Oro Valley, Arizona — Freddy's Frozen Custard and Steakburgers at 11143 N Oracle Road at Steam Pump Village in Oro Valley sold in a net lease sale for $2.46 million ($673 PSF) to a California Investor, The Marsha A. Covert Trust.
The 3,654 square-foot location seats 100 guests and has additional seating on the patio. Drive-thru service is also available. It opened in May 2017.
"This is our fourth location in Greater Tucson," said Brad Williams, franchise owner, at the opening. "We're grateful for the warm welcome we've received in Oro Valley and look forward to serving area guests with great food and hospitality the Freddy's Way."
The Franchisee has 19 Freddy' s locations and is also the franchisor majority owner of Native Grill & Wings with 32 locations.
Freddy's Frozen Custard & Steakburgers is prominently located along Oracle Road with a combined daily traffic count of over 28,000 vehicles. The site is projected to do over $1.7 million in sales. The property sold with a new 15-year lease with BLT Marana Properties, LLC.
Freddy' s Frozen Custard & Steakburgers enjoys a population of over 52,000 within a five-mile radius and 20,000 within a three-mile radius with an average household income exceeding $130,000 per year.
The property is located in the heart of Oro Valley and nearby tenants include: Chili' s, Home Depot, Dollar Tree, Target, Ross, Panera Bread, Taco Bell, Office Max, Carl' s Jr, and Holiday Inn and Suites. Across from the property is a Honeywell Aerospace business park.
John Andreini with Capital Pacific in San Francisco handled the sale for the seller and the buyer, a broker with Capital Growth, was self-represented. For additional information Adreini should be reached at 415.274.2715.
To learn more, login and see RED Comp #5021; for more properties available in the Tucson area go to RED Listing Registry.