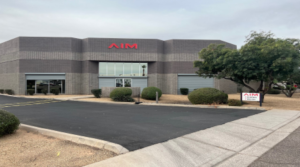 PHOENIX, Arizona– Stos Partners, one of the most active commercial real estate investment and management firms in Southern California, has expanded its presence in the Phoenix Metro area with the acquisition of a 28,520 square-foot industrial asset in Phoenix, Arizona.
The firm acquired the property through an off-market transaction in partnership with a high-net-worth family office, according to CJ Stos, Principal at Stos Partners.
"As the Phoenix industrial market continues to see an influx of interest and capital from businesses and investors alike, we've been able to secure increasingly rare opportunities for strong value creation through drawing upon our broker network and leveraging our proven track record," explains Stos. "We were able to approach this acquisition, our third in the Phoenix Metro area since entering the market just over a year ago, with an all-cash offer and facilitate a rapid close."
The Phoenix industrial market set another record year in 2021, notes Jay Boyle, Executive Vice President at Stos Partners.
"We are incredibly bullish when it comes to the Phoenix industrial market as net absorption, rental rates, and sales volume are all at historic highs and vacancies have tightened to an all-time low, sitting at 5.1 percent," says Boyle. "Further, as demand for e-commerce and last-mile logistics flourish, we are actively looking to expand our portfolio and implement our proven value-add strategies—which we've optimized through experience in Southern California markets for several years—within key markets throughout the country."
­According to Jason Richards, Partner at Stos Partners, this asset presents the opportunity to bring rents up to market through the firm's capital upgrade program.
"The property currently has a short-term tenant in place, providing immediate cashflow," says Richards. "Looking ahead, we plan to address deferred maintenance and implement strategic upgrades to the property, ultimately stabilizing and re-tenanting the asset."
Richards adds that the firm recently sold a 227,000 square-foot, single-tenant industrial property in the Phoenix Metro area submarket of Tolleson, Arizona, for $27.5 million, increasing the asset's value by nearly 70% during a one-year hold.
The property, which was acquired for $4.45 million with a high-net-worth family office, is located at 2757 E. Chambers Street in Phoenix, Arizona. David Wilson and Carter Wilson at DAUM Commercial Real Estate Services represented Stos Partners as the buyer in the transaction.
Stos Partners is a privately held commercial real estate investment and management firm that invests in real estate directly and in partnership with high net worth and institutional investors. With a track record spanning approximately $1.4 billion in transactions to date, the firm targets the most competitive risk-adjusted returns in the marketplace through opportunistic acquisitions, strategic redevelopment and ground-up development of both institutional and small-to-mid-cap commercial properties.  More information is available at www.stospartners.com.