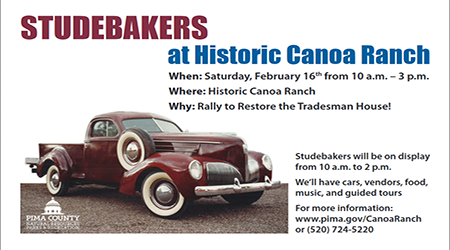 GREEN VALLEY, ARIZONA — Vendors, food, music and cars – Studebakers to be exact — will be on display Saturday, Feb. 16, from 10 a.m. to 2 p.m. at Historic Canoa Ranch, 5375 S. I-19 Frontage Road in Green Valley. The event is free, though donations will be gladly accepted.
Funds will help restore the Tradesman House at the ranch, which is listed on the National Register of Historic Places. Organizers also are raising money for a future Visitor Center, Gift Shop and Oral History/Story Center.
More than 20 Studebakers will be displayed, including some from the Studebaker Club of Green Valley and the Phoenix Club.
The entry gate to Historic Canoa Ranch is open seven days a week from 7 a.m. to 4 p.m. for access to the newly restored Canoa Lake and the Anza Trail. Guided tours of the historic site are conducted Tuesdays and Saturdays at 10 and 11 a.m. Visit www.pima.gov/canoaranch for more info on programs and other guided tours.
In 2001, Pima County purchased and began to restore the 4,800-acre Canoa Ranch complex with voter-approved 1997 and 2004 bond funds. Pima County opened the ranch headquarters to the public in March 2013. The property is managed by the Pima County Natural Resources, Parks and Recreation Department.