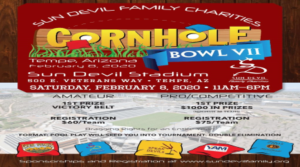 Phoenix, Arizona – For the very first time in the history of the annual tournament, Arizona State University Sun Devil football stadium will be the host venue of the upcoming 2020 Cornhole Bowl VII charity tournament.
Sun Devil Family Charities is a 501(3)C non-profit organization that was inspired by Joe Cajic, former 1994 offensive guard, iron man award winner, and captain of the ASU football team, who was suddenly in need of a lifesaving bone marrow transplant.  After the community pulled together to raise money and support they recognized the ongoing need to help more ASU families. Sun Devil Family Charities (SDFC) , a non-profit organization, was founded. Ever since, the SDFC organization has united to provide grants and support to ASU families with financial hardship due to unforeseen medical expenses.
The Cornhole tournament will take place directly on the football field.  Team registrations has already begun and this year with the event at the stadium, the Saturday event is expecting record-number participants, sponsors and guests.  "We are Sundevils helping Sundevils," said the SDFC President Shawn Daffara.  "My goal is to grow the event.  We will have more teams, more raffles, more prizes, and more fun!"  This year corporate sponsorships are available which will give big and small companies a chance to boost their company brand & visibility at the event in front of thousands of participants and guests.  The video scoreboard will be a huge factor to help promote the companies that will be helping SDFC make a difference in the lives of Sun Devil families.
Daffara stated, "We are a 'Grass Roots" organization. We are all volunteers and our board member have no salaries. We are doing this because the cause is bigger than ourselves."  Daffara created this cornhole tournament event from Bowl I to Bowl VII.  Over the years several sponsors have been an instrumental part in the fundraising efforts including sponsor Director of YAM Properties, Dan Dahl who donates every year to the cornhole charity tournament.  Other sponsors include Four Peaks, Tito's, Coca-Cola, Sun Devil Club, ASU-Young Professional Club (ypg), Cogburns, 'Speak of the Devils'(podcast) and Ruby Red Media.  Speaking of the Devils, the SDFC also has partnered with the Sun Devil Club to help with athletic scholarships to those student-athletes who are pursuing degrees in the medical and/or nursing programs at Arizona State University.  Inevitably this is a collaborative effort of the neighboring residential and  business communities and the event is going to be full of food, drink, fun, friendly competition and of course "bragging rights" for the winners of the tournament.
For more information, you can go directly to the website to review all the information and register and/or sponsor right online.  Remember, small acts of kindness, when multiplied with thousands of people, can uplift a community.