Sunbelt Celebrates Opening of La Estancia – New Masterplan Community in Tucson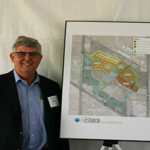 Privately owned, Sunbelt Holdings of Scottsdale, celebrated the opening of its La Estancia Community in Tucson Thursday, a 2,500-lot masterplan community at I-10 between Kolb Road and Wilmot Road in Tucson. First platted in 1999, and then dormant during the recession, the community has been revived after Sunbelt purchased it in 2013, completed the infrastructure, and put in amenities.
Executives from Sunbelt, John Graham, CEO, and Sean Walters, COO, along with Bob Bambauer, Senior Vice-President for Tucson developmentments, welcomed City dignitaries, builders, lenders, service and real estate professionals to the Grand Opening of La Estancia.
With community amenities of a clubhouse with pool and splash park, playground, lawn and model homes under construction by Meritage as a backdrop, the program began with John Graham talking about Sunbelt's success over 34-years in Phoenix and the pleasure it is for this first project to be opening in Tucson. Other Sunbelt communities in the Tucson region include Sendero Pass and Sycamore Canyon.
Tucson Mayor, Jonathan Rothschild, returned the welcome to Sunbelt into the community and spoke of the City's strong growth since coming out of the economic downturn. According to Mayor Rothschild, there has been 700 SFR lots approved by Mayor and Council in the past four months, from December to March and building permits are up 79% year over year.
La Estancia had been planned and long awaited within the Tucson regional masterplan. It is in the top performing Vail school district and conveniently located to some of Tucson's largest employers.
Councilmember Shirley Scott, who has been instrumental as liaison between Sunbelt and the City, also mentioned the size of her Ward 4 as being 100 square miles that continues to be developed. She welcomed Sunbelt officially and thanked it for its "time, effort and investment in God's country" and then let the mountain views just speak for themselves.
Meritage Homes is the first builder with a foot in the door at La Estancia and plans to hold its grand opening on Saturday, April 16. Homes at La Estancia span from 1,612 to 2,917-square-feet with first phase pricing from the $170s to $270s with two series of home plans to choose from. Click here and Here to learn more.
Other partners Sunbelt wanted to thank included:
Municipal Partners
City of Tucson Planning & Development Services, City of Tucson Department of Transportation, Tucson Water, and Pima County Wastewater Reclamation
Utility Partners
Tucson Electric Power, Cox Communications, Southwest Gas, Gannon Consulting
Professional Services
WLB Group – Civil Engineering, CollectiV – Landscape Architecture and Theme, Amerson Surveying – Surveyor, Pattison Engineering – Geotechnical Engineers, The Planning Center – Planning Consultants, Paulus Architects – Building Architecture, CCMC – Homeowners Association Management
Contractors
Borderland Construction – Land Development Construction, Fyffe Masonry – Theme Walls, Caretaker Landscape and Tree Service – Landscape and Irrigation, WE O'Neil – Building Construction, Cimarron Circle – Pool and Splash Pad Construction. Christy Signs – Entry Monument and Signs, and Honey Homes – Common Area Sidewalks
Real Estate Partners
Land Advisors Organization, Landmark Title Services, and Meritage Homes