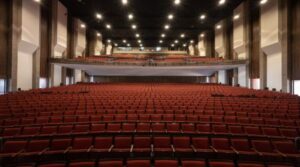 TUCSON, Ariz. – Sundt recently completed renovations at the Tucson Convention Center. The $65 million project in downtown Tucson was completed in partnership with Concord General Contracting.
"We are very proud to have completed this project," said Mike Miller, Sundt's project manager. "Returning to the TCC campus to enhance this central hub for economic development downtown makes it special for Tucson and us."
The project included 11 improvements across the campus, including updating the Leo Rich Theatre and the Linda Ronstadt Music Hall, renovating the main ballrooms and south exhibition hall, and adding 32,000 square-feet of meeting rooms, restrooms and lobbies. The upgrades will support conventions of many sizes, and technology upgrades to the 50-year-old building will support in-person, virtual or hybrid events.
Sundt + Concord also added over 900 parking spaces via two new parking garages on the west and east side of the facility. The structure on the east side of the convention center was expanded from a single lot into a multi-level, 392-space garage. Similarly, along Granada Ave, the team added another parking structure with 524 spaces.
The project team is also restoring the historic plaza on the TCC campus to its original state. Initially constructed in two stages in 1971 and 1973, it is the only Garrett Eckbo-designed civic landscape in Arizona. New trees, irrigation and restored bricks are part of the enhancements.
This landmark project marks the fifth time Sundt has worked on the TCC campus since the facility was constructed in the 1970s. It also marks the sixth time the Rio Nuevo board, Tucson's downtown financial district, selected Sundt to perform construction services for its projects. Swaim Associates served as the owner's representative on the project.
Sundt opened its Tucson office in 1929. In the decades since, it has built notable landmarks across the Old Pueblo. Recently, the company completed the UArizona's Student Success District and the I-10 Ruthrauff interchange. Sundt is currently renovating the Chemistry building on the UArizona campus, which Sundt initially built in the 1930s. The company continually ranks in the top five of ENR Southwest's Top Contractors.   
Sundt Construction, Inc. (www.sundt.com) is one of the country's largest and most respected general contractors. The 132-year-old firm specializes in transportation, industrial, building, concrete and renewable energy work and is owned entirely by its approximately 2,000-plus employees. Sundt is distinguished by its diverse capabilities and experience, unique employee-ownership culture and depth of self-perform expertise in nine major trades. Much of Sundt's workforce is comprised of skilled craft professionals who, together with the company's administrative employees, enable Sundt to fulfill its mission to be the most skilled builder in America. Sundt has 12 offices throughout Arizona, California, North Carolina, Oregon, Texas and Utah and is currently ranked the country's 61st largest construction company by ENR, the industry's principal trade magazine.