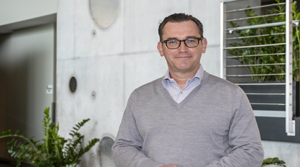 TUCSON, Arizona – Keenan Driscoll has been selected to serve as the next chief financial officer for Sundt Construction. In his new role, he will support executive leadership in driving business performance with short-term and long-term business decisions regarding asset and liability management, risk management and effective internal controls. He will also join the Sundt Companies Board of Directors. To help ensure a smooth transition, Driscoll will work closely with the company's longtime chief financial officer Kevin Burnett, who will remain with the company through April before retiring.
"Keenan is already proving to be an excellent addition to Sundt," said Sundt's CEO, President and Chairman of the Board, Mike Hoover. "He brings a broad corporate finance background, including specific financial experience in the construction industry."
Driscoll joins Sundt after more than 11 years with AECOM, one of the world's leading infrastructure services providers. During his tenure, he served as the company's global treasurer as well as the chief finance and operations officer for the Americas, with responsibility for financial planning, controllership, project accounting, support services, procurement and real estate.
"I am very excited to join Sundt," said Driscoll. "The company has a strong reputation in the industry and a unique employee-ownership culture that has driven its success. I look forward to working with the team and continuing to build the company's sustainable future."
Prior to joining AECOM, Driscoll spent 10 years working in investment banking. He began his career in the construction industry as a project engineer after graduating from college. Driscoll holds an MBA from the University of Michigan and a bachelor's degree in civil engineering from Tufts University. He and his wife are active community members, supporting a variety of organizations such as Juvenile Diabetes Research Foundation, Make-A-Wish Foundation and Dana Farber Cancer Institute.