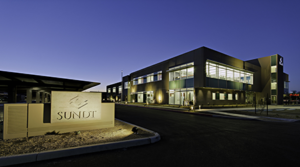 TUCSON, Ariz.  – Sundt Construction, Inc. climbed to No. 52 on Engineering News Record's (ENR) 2020 Top 400 Contractors list. ENR, the construction industry's principal trade publication, generates its list of Top 400 Contractors based on the prior year's construction revenue.
"We are pleased to move up again in the ENR Top 400 rankings," said G. Michael Hoover, Sundt's CEO and Chairman of the Board. "Our ranking is reflective of our employee-owners' commitment to our mission to be the most skilled builder in America."
Sundt reported over $1.7 billion in construction revenue during 2019, up from $1.4 billion in 2018. The following Tucson-area projects contributed to the company's 2019 revenue figures: I-10 Ruthrauff Road Interchange, All Seasons Oro Valley Assisted Living Facility, University of Arizona Student Success District, the Tucson Convention Center East Side Garage, Benedictine Monastery Apartments and the award-winning I-10 – Ina Road Interchange Improvements (a joint venture with Kiewit)
Sundt opened its Tucson office in 1929. In the decades since, it has built notable landmarks across the Old Pueblo, including nearly 60 buildings on the University of Arizona campus, the 4th Avenue Underpass, and most recently, Banner-University Medical Center Tucson's new hospital tower.