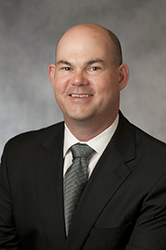 TUCSON, AZ --- Sundt Construction, Inc. (www.sundt.com) has promoted longtime Sundt employee Ian McDowell to vice president and Southern Arizona Regional Director.
Sundt Construction, Inc. (www.sundt.com) is one of the country's largest and most respected general contractors. The 126-year-old firm is known nationally for its commitment to quality and innovative approach to construction services.
A Sundt veteran of more than 20 years, McDowell previously served as Preconstruction Manager for Sundt's Southwest Building District, overseeing its team of estimators and support personnel as well as handling the coordination of all preconstruction activities such as estimating, procurement, contracting and subcontractor selection. In his new role, he is responsible for advancing Sundt's strategic growth throughout Southern Arizona.
McDowell has been in the construction industry since 1990, joining Sundt in 1995. He began his Sundt career working as a field engineer on the Aerospace and Mechanical Engineering building at the University of Arizona. In his time with Sundt he has held nearly every position in the company, splitting his time between the operations group and the preconstruction group working on projects valued from $500,000 to more than $350 million.
Beyond Sundt, McDowell has been heavily engaged in groups dedicated to advancing the construction industry, including the Associated General Contractors, the American Minority Contractors Association and the U.S. Green Building Council, for which he has served as a board member. He has been a frequent volunteer for the Arizona Builders Alliance (ABA) and is a 2008 graduate of ABA's Leadership Development Forum.
McDowell holds a bachelor's degree in civil engineering from New Mexico State University and a master's degree in business administration from the Eller College of Management at the University of Arizona.
Sundt currently is ranked the 75th largest construction company in the United States by ENR, the industry's principal trade magazine. The general contractor has offices in Tempe and Tucson, Arizona; San Antonio, Fort Worth and El Paso, Texas; and Sacramento, San Diego and San José, California.