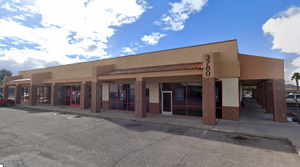 TUCSON, AZ, May 2, 2023 --  Phoenix-based, Super 99cent Store (Seong Ho Lee) purchased an 8,000-square-foot building at Santa Cruz Plaza, 3780 S. 16th Ave. in Tucson, from ZRYW LLC of Brooklyn, NY for $1.25 million ($157 PSF).
The property was formerly a Sleep Outfitter Outlet and was vacant at the time of sale. The asset closed on April 4, 2023.
Santa Cruz Plaza is a 271,645-square-foot shopping center at Ajo Way and I-19, 3640-3786 S 16th Ave, and 802 Ajo Way.  The center has a strong tenant mix including Fry's, Burlington Coat Factory, VF Outlet, Footlocker, Wells Fargo, Desert Sports & Fitness Center, Subway, and other national and local tenants.
The Super 99cent Store brand is owned by the buyer and merchandise ranges from dollar items up. When you shop at a Super 99cent store, you can shop for the whole family and find any number of fine goods, clothes, food, toys, cleaning supplies, books, electronics, beauty supplies, tools, school supplies, and more.
Aaron LaPrise and Dave Hammack, Principals and Retail Specialists with Cushman & Wakefield | PICOR, represented the seller in this transaction. James Shin, with SK Realty of Queen Creek, AZ, represented the buyer.
For additional information, LaPrise can be reached at 520.546.2770 and Hammack is at 520.546.2712. Shin can be contacted at 602.882.0787.
To learn more, see RED Comp #10585.