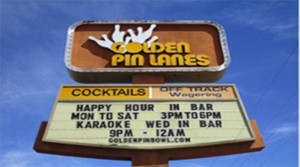 PIMA COUNTY — The Pima County Board of Supervisors held a Regular Meeting on Tuesday, August 7, 2018. The Board was asked to discuss and vote on the highly controversial purchase of the Golden Pins Bowling Alley.
On May 15, 2018, the Pima County Board of Supervisors in a 3:2 vote to approve an Acquisition Agreement to acquire the Golden Pins Bowling Alley located at 1010 W. Miracle Mile for the contract amount of $2,941,600–which is reported as being nearly 30% higher than the appraised value of $2.2 million.  Supervisor Miller opposed the acquisition citing issues with the appraisal which didn't include consideration of asbestos and questioned why the urgency in approving this purchase at 30% over appraised value.
Supervisors Bronson, Elias, and Valadez objected and approved the purchase, stating the 45-day due diligence would be started after the purchase approval.  County Administrator Huckelberry later issued a memorandum stating the county would spend $2.9 million ($57.60 PSF) to acquire the property plus an additional $4 million to renovate the property. Bringing the 51,068-square-foot bowling alley built in 1966, a 49,334-square-foot bowling alley and a 1,734-square-foot out building (built 1950) on 4.32 acres to $135 PSF.
Supervisor Ally Miller's commented on the Golden Pins discussion and vote, "Due to my effort to exercise due diligence, the presence of asbestos in the building was made public."
"Despite the presence of asbestos and high remediation costs associated with this building, County staff has pushed forward with the sale. Today County Administrator Chuck Huckelberry confirmed that taxpayers will be asked to pick up the majority of the costs associated with the asbestos removal and remediation."
Supervisor Miller continued, "So much about this deal is still unknown and the most important question has never been answered. Taxpayers want to know why the County Administrator insists on buying more and more private property and refuses to use their tax money on fixing our roads."
"At Tuesday's meeting, Supervisors Elias, Valadez, and Bronson voted to approve spending hundreds of thousands of dollars on asbestos removal and remediation for what many believe is an over-priced building," Supervisor Miller said in a written statement.