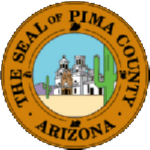 Committee will explore possible countywide sales tax to fund road repairs, reduce property tax
PIMA COUNTY – The Board of Supervisors at its Sept. 5 meeting approved appointments to the Sales Tax Advisory Committee.
The Board established the committee to explore the possibility of funding roadway repairs and to lower the primary property tax rate. The committee is expected make a recommendation to the Board of Supervisors.
Pima County is the only Arizona county that doesn't have a sales tax.  The appointees include:
District 1: Allan Cameron
District 2: Dan Eckstrom and Larry Hecker
District 3: Rick Price and Dennis Minano
District 4: Wendell Long and Sergio Arellano
District 5: Bob Gugino and Kelly Fryer
Organizational recommendations: Anita Smith Etheridge, representing Tucson Urban League; Mark Clark, representing Pima Council on Aging; Michael McDonald, representing Community Food Bank of Southern Arizona; Robert Medler, representing Tucson Metro Chamber; Karen Schutte, representing Pima County Small Business Commission; Larry Gibbons, representing Southern Arizona Home Builders Association; Charles Wetegrove, representing Southern Arizona Lodging and Resort Association; and Mark Van Buren, alternate, representing Southern Arizona Lodging and Resort Association.
The Sales Tax Advisory Committee is made up of six members of the previously established Transportation Advisory Committee, a body with 13 members, 10 of whom Supervisors appointed and three the County Administrator appointed.
As proposed, a half-cent sales tax would raise an estimated $69.8 million if implemented for the entire Fiscal Year 2018-2019. County estimates show the average-income household would pay about $90 more per year in sales taxes if a half-cent sales tax was enacted.
A half-cent sales tax would negate the need for the $0.25 primary property tax passed as part of the Fiscal 2017-2018 budget to be used for road repairs.  It would also allow for the primary property tax rate to be reduced by $0.6437, from $4.2096 to $3.5659.
The County Administrator recommends the first $19.5 million of collections be used to fund the local road pavement preservation program the Board approved with the Fiscal Year 2017-2018 budget.
A schedule of Sales Tax Advisory Committee meetings has not been determined.