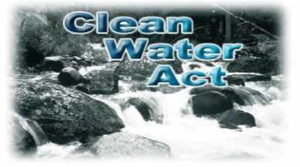 PIMA COUNTY — The Pima County Board of Supervisors Dec. 18 voted 3-2 to approve a resolution to urge the U.S. Environmental Protection Agency to maintain water quality protections for Arizona streams under the Clean Water Act.
The resolution came in response to an effort by the EPA and the U. S. Army Corps of Engineers to eliminate pollution regulations for ephemeral or intermittent streams, meaning only a tiny fraction of the state's waterways and lakes would remain covered – roughly 4 percent, according to a 2007 Arizona Department of Environmental Quality estimate. Most of Arizona's rivers and streams are ephemeral or intermittent, meaning they're dry for part of the year or only flow with water after storms.
"Surface water quality standards would no longer apply to dry washes where mines, wastewater treatment facilities and other facilities discharge pollutants," Pima County Sustainability and Conservation Environmental Planning Manager Julia Fonseca said. "Existing protections for all surface water, including perennial and ephemeral streams, minimize the potential effects of water contamination on downstream water users, and these users depend on stringent Clean Water Act definitions. With the proposed change in regulation, the requirements to obtain Clean Water Act permits for many activities will no longer be needed to discharge pollutants, dredge or fill streambeds, or create releases that flow downstream."
Floods along otherwise dry washes often carry pollutants downstream to ponds, lakes and waterways used by cities, farms, ranches and people who enjoy the outdoors. Changes in Clean Water Act regulations would also affect aquifers like Tucson's that are naturally recharged when water flows in usually dry riverbeds.
"I am pleased that the Board acted wisely to oppose the Trump administration's effort to gut the Clean Water Act, which would impact public health by removing protections from pollution and degradation for nearly every waterway in Arizona," said Board Chairman Richard Elias. "Tucsonans know all too well the importance of pollution prevention because we have experienced several significant episodes of pollution getting into groundwater wells."
The federal government adopted the Clean Water Rule as part of the Clean Water Act, signed by President Richard Nixon in 1972.