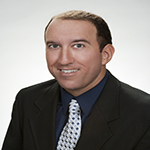 Phoenix, Arizona – While SVN Desert Commercial Advisors is a full service commercial real estate firm, SFR Hub works specifically with all SVN brokerages within our network to host SFR portfolios all across the nation.  Desert Commercial Advisor Jonathan Levy represented the buyer in the sale transaction.
The SFR portfolio is located in Milton, Florida.  The transaction consisted of a 17-home single family residential portfolio that was fully leased at the time of the sale.  The portfolio sold for $860,000 and was in escrow only 45 days from open to close.  Levy represented the Assignee, Choirce4Home Advantages, LLC and SFR Hub's Michael Finch represented the Assignor, B&G Landholdings, LLC.  The buyer, Peter Vamavski is located in Newcastle, Washington.
Levy stated, "This transaction is a great example of why the SVN Difference matters." After an initial Monday morning sales call presentation, the buyer's agent, I presented the opportunity to his client and both parties were able to complete a successful close of escrow.  Levy's client added another opportune SFR portfolio to their already impressive SFR portfolio holdings which are located in other states across the United States.