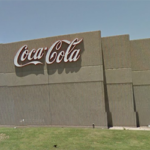 TUCSON, AZ — Swire Pacific Limited ("Swire Pacific"), a subsidiary within Swire Pacific's Beverages Division, completed the refranchising from The Coca-Cola Company of territories in Arizona and New Mexico, including the acquisition of eight sales and distribution facilities in these territories. Swire Coca-Cola's operation of the territories commenced July 30.
As part of the agreement, Swire acquired the property at 5551 W Coca-Cola Place in Marana, AZ for $5,645,464 ($59 PSF) according to public records. The 95,388-square-foot building (built 1989 and 1993) is on 12 acres in Peppertree Ranch Business Park. The seller was BCI Coca-Cola Bottling Company of Los Angeles.
The new deal follows previous territory grants in 2014, when Swire Coca-Cola, USA received expanded territories in Colorado, including Denver and Colorado Springs. The completion of the latest refranchising agreement in Arizona and New Mexico increases Swire Coca-Cola, USA's workforce by 1,450 employees, and its population served will increase to a total of 19 million people across 13 states. Prior to this purchase, Swire Coca-Cola, USA had smaller territories in Arizona and New Mexico.
As part of the refranchising of U.S. territories from The Coca-Cola Company, Swire Coca-Cola, USA signed a Letter of Intent in February 2016 for new territories in the Pacific Northwest of the United States. The closing is expected to take place in 2017.
"Completing the Arizona and New Mexico agreement marks another significant milestone for our USA business," said Pat Healy, Managing Director of Swire Beverages. "We have seen very strong sales from our new territories in Colorado, and we are excited by the opportunities that Arizona and New Mexico will bring. With the Pacific Northwest still to come, including the cities of Seattle and Portland, we feel very positive about the future growth potential of Swire Beverages in the USA."
"Our growing footprint in the USA provides an important strategic counterweight to our territories in Mainland China, which as developing markets are more volatile in nature. We are proud to be given the opportunity to further strengthen our partnership with The Coca-Cola Company as we expand into these new territories," Healy said.
"We are excited to finalize this deal with The Coca-Cola Company," said Jack Pelo, President and CEO, Swire Coca-Cola, USA. "New territories and more employees mean more opportunities to serve more customers in more places. I am eager to bring Swire's commitment to excellence to our new customers and communities."
Swire Coca-Cola, USA, a subsidiary of Swire Pacific Limited within its Beverages Division, produces, sells and distributes Coca-Cola and other beverages across 13 states to 19 million people. With 4,600 employees and headquarters in Draper, Utah, the company's territory includes parts of Arizona, California, Colorado, Idaho, Kansas, Nebraska, Nevada, New Mexico, Oregon, South Dakota, Washington and Wyoming.