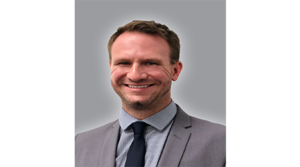 Phoenix, Arizona – SVN Desert Commercial Advisors brings on another valuable asset to the SVN retail team in Phoenix.  Switzenberg is a name you may already recognize in the industry with his father being a land developer in the valley for forty years, but Thad will soon be making a huge name for himself at SVN.
Switzenberg comes with a wealth of knowledge in the commercial real estate industry and will be under the direction of Rommie Mojahed, the Director of Retail & Sales Investments.  "With the exponential growth of our land listings and sales, Thad will be an integral part of growing and expanding our division in this specific property type," said Mojahed.  As a native to Arizona, Thad was born and raised in Scottsdale and Cave Creek and will be focusing on working on retail and land development in growing areas such as the southeast and west valley, but will cover the entire state of Arizona.  Thad is a Cum Laude graduate of Arizona State University in Tempe with his bachelor degree in Real Estate & Business.
What better way to put his real estate knowledge to use than moving to Churchchrist, New Zealand after purchasing, building and operating a Subway sandwich shop.  While he was there is developed a production company that brought the musical RENT to the area for the first time in history.  He also became involved in other activities on the south island by playing in a baseball league and indoor club Cricket league.
Switzenberg's entrepreneurial spirit will be a huge asset to SVN Desert Commercial Advisors and his previous work history in working on the master planned communities in North Scottsdale, Storyrock and Del Rio in Avondale will be bring a great value to SVN.