Largest Multi-Tenant Office Sale since 2007, Biltmore Financial Sells for $163.1 Million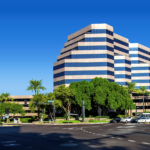 PHOENIX, AZ – ViaWest Group recently purchased the Biltmore Financial Center, three Class A office buildings totaling approximately 635,000-square-feet at the northwest corner of 24th Street and Camelback in Phoenix, for $163.1 million ($257 per square foot).
The transaction is the largest multi-tenant office sale in the Phoenix area since 2007 and third largest sale ever in the metropolitan area, according to CoStar's records.
ViaWest Group of Phoenix, with partner AllianceBernstein U.S. Real Estate Partners II, L.P. of New York, purchased the Biltmore Financial Center from Invesco Real Estate.
The buyer was self-represented in the transaction. Jim Fijan and Will Mast of CBRE represented the seller.
"The sale is a good barometer for the market overall. The sale process was very competitive. We received north of 150 confidentiality agreements, which is a good indication that Phoenix is back as a favorite for all types of capital looking to invest in real estate," said CBRE's Fijan. "Leasing fundamentals are still improving in Phoenix, but we are already seeing near pre-recession sale prices. I think this confirms confidence in the market. The metro Phoenix office market still has quite a bit of runway and as leasing activity continues to improve investors will see significant revenue growth."
The three buildings comprising Biltmore Financial Center are located on the northwest corner of the most prestigious section of the Camelback Corridor:
       * 4-story Biltmore Financial Center I (2390 E. Camelback Road)
      * 11-story Biltmore Financial Center II (aka Northern Trust Tower, 2398 E. Camelback Road)
      * 6-story Biltmore Financial Center III (2394 E. Camelback Road)
Major tenants include Fennemore Craig, Colliers International and Northern Trust. The institutional-quality buildings are Energy Star rated and LEED certified. The property has premier access, extremely convenient parking and some of the best views in Metro Phoenix. As well, it includes a two-acre park, an onsite gym, and a deli with many additional amenities directly across the street at the Biltmore Fashion Park.
"This property has it all; location, views, access, parking and a premier tenant base," said Steven Schwarz, a Founding Partner of ViaWest Group. Gary Linhart, also a Founding Partner of ViaWest Group added, "We are very excited with our plan to activate the common areas, modernize the amenities, and utilize our proactive management style to position Biltmore Financial Center to its rightful place as the premier asset on the Camelback Corridor."
Jerry Roberts, Corey Hawley and Pat Boyle with CBRE are representing ViaWest Group in leasing the property.
ViaWest Group has been one of the most active buyers in the Phoenix area in 2015. In addition to the acquisition of five industrial properties, an office building, and a land parcel so far this year, ViaWest Group recently completed a major renovation of Nexus, a 120,000-square-foot office property at the ASU Research Park.
The Biltmore Financial Center acquisition is ViaWest Group's largest purchase to date. ViaWest Group plans to move its office from 40th Street and Camelback to the Biltmore Financial Center this fall and serve as the property manager and asset manager.
According to CBRE Research, which conducts an annual Investor Intentions Survey, current investment trends point to supply and demand issues in core, coastal markets like San Francisco, Los Angeles and Seattle. This makes more inland markets like Phoenix increasingly attractive.
Fijan continued, "There was a 17 percent rise in real estate investment volume across the U.S. in 2014, which has translated to rising asset prices and a tightening supply, especially in coastal markets. Metropolitan Phoenix is still relatively well priced and there are still plenty of opportunities."