New Dove Mountain Senior Living Facility Site Sells for $1.7 Million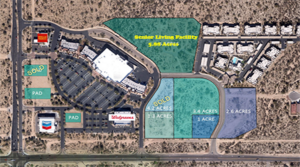 MARANA, ARIZONA –  Rita Land Corporation, a subsidiary of Cottonwood Properties (Bill Hallinan, vice-president) sold 5.9 acres for construction of an assisted living facility at 5250 W Dove Centre Road in Marana, at the Dove Mountain Centre II, located northeast of Tangerine and Dove Mountain Blvd, for $1.683 million ($6.57 PSF).
AZ Land Holdings LLC, a subsidiary of CR Builders, of Billings, MT (Marsha Urmanski, manager) was the buyer. The operator of the new facility has yet to be determined and will most likely be an independent operator we were told. The plan is to build 57,655-square-feet in three buildings with a total of 142-units, including 44 independent living units, 75 assisted living units and 23 memory care units, according to plans submitted pre-approval to Marana Development Services.
Jerry Robinson with JWRA Architects of Salt Lake City, Utah is handling the project.
There are more than 4,000 homes in Dove Mountain today, and the capacity and planning for thousands more. Cottonwood has set aside several parcels within Dove Mountain for commercial and mixed-use development. In 2008 Cottonwood built Dove Mountain Centre at the entrance to the community on the Northeast corner of Dove Mountain Boulevard and Tangerine Road. Several parcels surrounding the Dove Mountain Centre are available for purchase or build to suit.
"A Senior Living Facility will be a welcomed addition at the Dove Mountain Centre to join the successful Marana Health Center, Veterinary Clinic and retail shops," said Bill Hallinan, vice-president of Cottonwood Properties.
Aaron LaPrise with Cushman & Wakefield | Picor is marketing the remaining lots at Dove Mountain Center for Cottonwood Properties.
For more information LaPrise should be reached at 520.546.2770.
To learn more, login and see RED Comp #5638.