Peach-Dabdoub Downtown Tucson Revitalization Projects Underway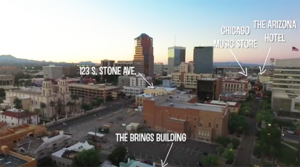 TUCSON, Arizona — The final piece of a public-private partnership between the Rio Nuevo District, Peach Properties (Ron Schwabe, manager) and Dabdoub Investments (Marcel Dabdoub, manager) has been assembled. Schwabe and Dabdoub acquired 123 S Stone Avenue in Tucson for $1.25 million ($116 PSF).
As part of the Public-Private Partnership (P3) project, Rio Nuevo will invest up to $4.4 million dollars in restorations of four iconic buildings, the projected value of which upon completion will be in excess of $19 million dollars. The four downtown properties include The Chicago Store, the Arizona Hotel, the Brings Chapel on South Scott, and 123 South Stone.
Each of the properties will be a mix of retail, food and beverage which the developers estimate will create over $1.3 million dollars per year in direct tax benefit within the District.
Restauranteur Chris Bianco has announced that he will also partner with the developers to keep his highly rated restaurant in downtown Tucson, along with a number of known businesses from EXO Coffee to the restaurant operators behind Obon Sushi were announced as tenants.
To learn more, see RED Comp #4483.
Much of the Peach-Dabdoub presentation for the Downtown Tucson Revitalization of these properties is posted here for viewing.