SIOR Becomes First-Ever Sponsor of Commercial Real Estate Shop at Junior Achievement's JA Biztown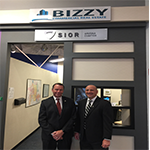 PHOENIX, Arizona – Through a new partnership with Junior Achievement (JA) of Arizona, the Arizona Chapter of the Society of Industrial and Office Realtors (SIOR) has proudly established the first-ever sponsorship of a commercial real estate shop in JA's popular JA BizTown facility in Tempe, Arizona.
Launched in 2001, JA BizTown gives students the opportunity to take business fundamentals they receive during a school classroom curriculum and apply them in a student-sized town, where they become business professionals for a day in a real-world mini economy. In 2009, in response to burgeoning demand, JA expanded their facility with the addition of a second, on-site JA BizTown, which runs the JA Finance Park program for approximately four months of the year.
With its sponsorship, SIOR has established a first-ever partnership for the commercial real estate business station at JA BizTown. The mock businesses – named Bizzy Commercial Real Estate – incorporates elements of the office, industrial, multifamily, retail and medical property sectors, giving JA BizTown participants a broad induction into the life of a commercial real estate expert.
"The new SIOR-sponsored station at JA BizTown will introduce children and young adults to the commercial real estate community and promote our industry as a future potential career," said SIOR Arizona Chapter President and JLL Managing Director Mark Gustin. "It gives us the opportunity to help students learn more about office buildings, medical buildings, grocery stores and warehouses, and consider how each of these works as a critical element in a successful economy."
Like every business station at JA BizTown, Bizzy Commercial Real Estate allows students to take on various job responsibilities that require them to conduct commerce with other businesses and navigate the realities of paying electric bills, taxes, rent and other everyday expenses.
"It's an exceptional exercise in leadership, financial literacy and communication skills," said SIOR Arizona Chapter Vice President and Colliers International Executive Vice President Rob Martensen. "We hope that by SIOR serving as the seed sponsor for this station, it will open doors and make it easier for our colleagues to join us in supporting this wonderful organization."
Other support opportunities recommended by SIOR include volunteering at the Bizzy Commercial Real Estate station – giving students the opportunity to interact with real-time industry professionals – or attending a JA event, such as the organization's 60th Anniversary open house celebration.
For more information, visit the Junior Achievement website at www.jaaz.org, call (480) 377-8500 or contact via email at info@jaaz.org.