Photos from 1.7-million-square-foot Groundbreaking ceremony in Casa Grande this week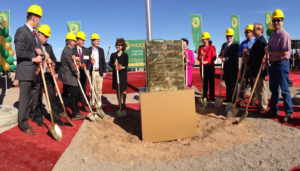 Photos from the groundbreaking ceremony of PhoenixMart, a 1.7-million-square-foot multi-functional wholesale, retail and convention center space. As a one-stop solution that connects worldwide buyers to competitive sellers, PhoenixMart will showcase the products of nearly 2,000 exhibitors and create approximately 9,000 jobs.
Rep. Gosar  who was instrumental in working with local stakeholders to facilitate its launch said, "with a smile and a can-do attitude, Casa Grande can be the center of business in Arizona. PhoenixMart will create thousands of jobs locally and facilitate global innovation. I can't wait to watch its ripple effect. I would be remiss not to applaud the local officials and local efforts that went into helping make this project a reality." In an increasingly intertwined global economy, Rep. Gosar believes bringing foreign investment to the United States is essential both in creating and sustaining a strong American workforce, in addition to keeping the nation competitive in the world markets.
Mayor Jackson said, "It's a good day for Casa Grande. Not everyday we get a landmark industry coming to town, particularly one that will have such a positive impact not just in Arizona but nationally."
For full story see https://realestatedaily-news.com/new-1-7-million-sf-global-commerce-center-phoenixmart-breaks-ground-casa-grande/
Notable participants included former Labor Secretary Elaine Chao, Rep. Ann Kirkpatrick (AZ-01) and the Mayor of Casa Grande, Bob Jackson.