The Window Depot Speedway Property in Tucson Sells for $2.64 Million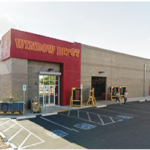 TUCSON, Arizona — A private trust of the Scar Family in Santa Barbara California purchased a 13,200-square foot retail/wholesale building located at 5123 E. Speedway Blvd. in Tucson for $2.64 million ($200 PSF) for investment.
The seller, Solar Industries, Inc. of Tucson (Don Medoff, president) sold the property fully occupied by its subsidiary, The Window Depot, in a sale leaseback transaction. The Window Depot is making a long-term commitment to the location.
The Window Depot changed the way America buys windows by providing the absolute lowest price and best service in town. Since 2002, The Window Depot has grown to 8 locations in four states, Arizona, Texas, New Mexico and California, offering new windows, doors, skylights, kitchen countertops, and cabinets for home improvement projects at the lowest possible prices for contractors and the do-it-yourselfers.
Stephen D. Cohen and Russell W. Hall, SIOR, GSCS, Industrial Specialists with Cushman & Wakefield | PICOR, represented the seller in this transaction.  Mitch Stark with Berkshire Hathaway Realty represented the buyer.
Stark told us this was the buyer's first investment in the Tucson market. "It was the new construction of the multi-use building (built in 2011) and its location on a busy street that first struck the buyer's attention," Stark said. "The Window Depot and Solar Industries success as a Tucson-based company and growth of the real estate market throughout the country were also important factors."
For more information, Cohen can be reached at 520.546.2750 and Hall is at 520.546.2747. Stark should be contacted at 805.689.2429.
To learn more,  login and see RED Comp #4620
[mepr-show rules="58038″]Sale date: 3/8/2017. This was the buyer's upleg in a 1031 exchange. Property is a free standing bldg that sold as a Net Lease Investment with a new 10+ years lease as a sale leaseback. Property sold at a 6.85% cap rate. [/mepr-show]