Humble Pie – Pizza, Wine and Spirits to Open in Chandler's Downtown Ocotillo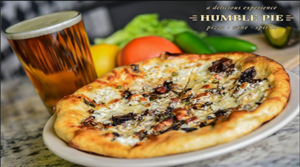 Chandler, AZ – Humble Pie – Pizza, Wine and Spirits is slated to open in Downtown Ocotillo, Friday, June 1st. The popular pizza place will be located between The Living Room wine café & lounge and Rock Lobster.
Humble Pie's are recognized as quintessential neighborhood places to dine. Known for their wood-fired pizza, salads, grilled veggies, pastas, sandwiches, burgers, calamari, award-winning French fries, and a full-bar. The polished, yet unpretentious environment and high-quality dishes continue to earn Humble Pie its reputation as an area favorite.
The locally owned by Tom Kaufman, Rich Sullivan, Patrick King, Spike Lawrence, David Dabruzzi, Tim Valencia and Tony Eden,  Humble Pie' restaurant group opened their first location over ten years ago. In 2008, Tom Kaufman, longtime restaurateur, and three friends with thousands of combined hours in the food industry set out to create a new pizza dining experience. Humble Pie in Chandler will mark their tenth location. "Opening a Humble Pie in the southeast valley is part of our ongoing tenth anniversary celebration, we look forward to serving Chandler," says Kaufman.
The new Humble Pie in Chandler will be open daily, 11 am to 9 pm. Guests may dine in or take-out. Reservations are welcome. Located at 2475 W. Queen Creek Rd., (between Price and Dobson). Visit humblepieusa.com for menus and more information.