Sunrise Plaza Sells at Full Occupancy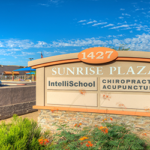 PHOENIX, Arizona – ORION Investment Real Estate is proud to announce the sale of the three-tenant retail center for $1.5 million ($159 PSF). Sunrise Plaza located at 1427 East Bell Road in Paradise Valley. Anchored by Sunrise Preschool and IntelliSchool, the property was 100% occupied at close of escrow. The sale included Alyeshmeni Chiropractic, IntelliSchool, and CrossFit BCR. The sale did not include Sunrise Preschool, the anchor tenant for the property, which occupies the western-most portion of the project.
Nick Miner, CCIM, Senior Vice President at ORION Investment Real Estate, represented the Seller in this transaction. Miner said, "Both Buyer and Seller were able to achieve their goals. Buyer receives a great property with a stable, good mix of tenants, and Seller is able to redeploy working capital into other projects."
The Seller in this transaction was GRRO III LLC, represented by Nick Miner, CCIM and J.T. Taylor at ORION. The Buyer, Seven Hills Phoenix LLC, was represented by Sean Thomas at SRS.
For more information Miner and Taylor can be reached at 480.634.6934.