Ina Road bridge work results in change to effluent discharge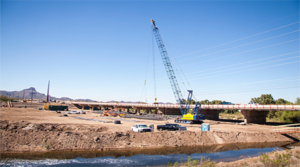 MARANA, Arizona — The Ina Road construction project led by the Arizona Department of Transportation and the Town of Marana has resulted in the diversion of effluent flowing in the Santa Cruz River.
The flow diversion, which was necessary for the construction of a bridge over the Santa Cruz at Ina Road, has moved the flow from the west bank of the river to the east bank, resulting in the death of some fish. The fish were caught in pools as the water in that part of the channel lowered. While the death of the fish is unfortunate and may be upsetting to visitors to the river and users of The Loop, there is no practical way to remove these non-native fish when channel flows must be changed for work in and along the river.
The numerous fish and amphibians, which were not as severely affected by the channel change, is a recent development in the river and a result of the County's improvement to the two wastewater plants along the Santa Cruz at Roger and Ina roads. Before 2013, effluent discharge in the river was too cloudy and too laden with nitrogen and ammonia to support much aquatic life. Since then, the much cleaner discharges have had a remarkable effect on the river and its ability to support life. County biologists estimate the number of fish harmed by the channel flow change is a small percentage of the fish in the river, based on annual surveys conducted by the County and the Sonoran Institute
The Ina Road project, which began in January 2017, involves construction a new interstate and railroad overpass, plus improvements to Ina Road west of I-10, including a new, bigger bridge over the river. It is projected to be completed at the end of 2018. It has necessitated closure of The Loop shared-use river path south of Ina Road at Ted Walker Road and north of Ina Road at the Crossroads at Silverbell District Park.
Once the bridge project is completed, there will be Loop trail underpasses on each side of the Santa Cruz River, new access ramps to Ina Road and new bike lanes and sidewalks along Ina Road.