JANUARY 2018 Tucson Housing Statistics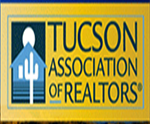 The Tucson Association of REALTORS® (TAR) representing the interests of over 5,100 professionals in Southern Arizona as the voice of the real estate industry publishes month residential statistics on the housing market for metro Tucosn.  Details at www.tucsonrealtors.org.
Below are some highlights from the January 2018 Residential Sales Statistics:
Total Sales Volume of $227,851,861 is a decrease of 17.72% since December's number of $276,914,274 but an increase of 2.99% over January 2017.
The Average Sales Price of $243,431 is a decrease of 1.89% since December's $248,131.
Average List Price of $249,970 is down from $255,058 in December, a 1.99% decrease.
Total Under Contract increased to 1,823 from last month's 1,290.
Total Unit Sales of 936 fell from December's number of 1,116, resulting in a 16.13%
The Median Sales Price, $200,000, is down from $205,000 in December resulting in a
44% decrease but an 8.11% increase over January 2017.
New Listings increased this month to 2,019 from 1,272 in December, a 58.73% jump.
Total Active Listings of 3,375 is a decrease of 2.26% from last month.
Average Days on Market of 49 is an increase from December's number of 46.
Conventional loan sales of 44.6% exceeded Cash Sales of 26.3%.
More detailed information is available here for sales: statsjan2018 and here for rent stats: statsrentjan2018