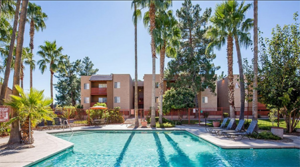 TUCSON, Arizona — CBRE has completed the sale of the Tanque Verde Apartment complex, 428-unit multifamily community located at 7671 E. Tanque Verde Road in Tucson, Ariz. The multifamily asset sold for $26.5 million ($61,916 per unit). The property was 96 percent leased at time of sale.
Michael Sandahl with CBRE's Tucson office, along with Tyler Anderson and Sean Cunningham with CBRE's Phoenix office, represented the seller, North Salt Lake, Utah-based Chartwell Capital Partners, LLC. The buyer was a California investor from Marina Del Rey, CA that purchased it under the name of Tanque Verde-Tucson Apartments, LLC.
"The seller purchased the property in 2014 for $21.3 million after it had undergone significant capital improvements worth more than $5 million, including a complete re-roofing, master heating and cooling system replacements, and solar systems and water conversation measures designed to make the property as energy efficient as possible," said CBRE's Sandahl. "What's more, a portion of the units have been upgraded with premium finishes. The property offers an exceptional value-add opportunity to increase revenue by continuing the existing and proven interior upgrade program."
The Tanque Verde apartment complex was developed in two phases, in 1979 and 1981. Units have been upgraded with new appliances, new cabinets, resurfaced countertops, upgraded fixtures, flooring, mirrored closet doors, microwave oven/hoods, and other improvements. Situated in northeast Tucson, the community benefits from the surrounding strong employment base, class A developments and premier housing options offering residents first-class amenities in a highly desirable location.
Tanque Verde also enjoys proximity to numerous amenities, including grocery, banks, restaurants, and other retail services. Morris K. Udall Park, one of the largest and most popular municipal parks in Tucson, is located across the road from Tanque Verde Apartments, and bike trails and abundant recreation are nearby, including Sabino Canyon and the Mt. Lemmon Recreation Area.
To learn more Sandahl should be reached at 520.323.5100. Anderson and Cunningham can be contacted through the Phoenix office at 602.735.5555.
To learn more, see RED Comp #5647.