TAR February Report: Volume Rises as Tucson Home Prices Drop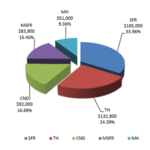 Tucson Association of Realtors (TAR) has released stats for February 2016. Average Sales Price decreased 4.80% this month to $206,128 from $216,510, while home sales pushed up 4.08%, according to the Tucson Association of REALTORS® Multiple Listing Service.
The Average Selling Price decrease of $10,382 compared to January, is $3,275 less than a year ago ($209,403) and the Median Selling Price decreased slightly ($1,000) to $168,900 since January.
Total sales volume of $218 million increased 4.80% over January ($209 million), and year-over year 11.22% higher (+$22 million) than February 2015 ($196 million).
The increased month-over-month, 1,055 homes were 9.33% higher than January (965 homes) a 12.83% increase when compared to February 2015 (935 home sales).
The highest activity was in zip codes 85629 (Sahuarita area), 85710 (East Tucson), and 85742 (Northwest Marana area).
Highlights from TAR's Residential Sales Report:
Fewer new listings this month, a decrease of 6.95% from January. Most new listings are found in the Northwest area (562).
Total active listings are 5,078, a slight decrease of .33% since January's 5,095.
Newly under contract for the month increased 19.72%, with 2,282 still under contract at month end.
Average days on the market decreased from 66 days in January to 65 days. One year ago, average days on market was 69 days
Conventional loan sales accounted for 33.6% and exceeded Cash Sales of 30.1%
Please refer to full February sales report for graphs and additional information at
Full Tucson MLS sales report:  https://www.tucsonrealtors.org/docs/default-source/Stats/statsfeb2016F23DE40039CF.pdf?sfvrsn=0
Tucson Rental statistics: https://www.tucsonrealtors.org/docs/default-source/Stats/statsrentfeb201673095E0D8C85.pdf?sfvrsn=0