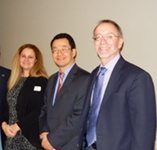 Nicole Brule-Fisher, 2015 President of Tucson Association of Realtors, welcomed Dr. Lawrence Yun, Chief Economist for the National Association of Realtors and Dr. George Hammond, Director of Economic and Business Research Center at UA Eller College of Management, to a room full of Realtors on Friday the 13th eager to get answers to the TAR Forecast question: "Why aren't we feeling the recovery?"
Both economists agreed that the economy continues to battle headwinds both nationally and locally such as lack of construction and further fiscal drag.
Dr. Hammond predicted Tucson's economy would build steam this year and start to expand again next year. Tucson added 4,200 jobs last year, only about a 1.2% growth rate, and still lags behind state and national growth levels of 2% and 1.9% respectively.
Construction activity needs to pick up again for Tucson to gain momentum. Construction and manufacturing experienced job losses over the past year while leisure, hospitality, professional and business services, education and healthcare and financial activities gained jobs.
Dr. Hammond expects Tucson's job growth to gradually improve, rising from 0.8% last year to 1.3% by 2016.
Dr. Yun was a bit more optimistic for Tucson, predicting by 2016 Tucson's job growth would outpace the national average, due to migration patterns to warmer climates and second home purchases. Nationally, 12-million jobs have been gained since 2010, after losing 8 million jobs since the recession started, although Phoenix and Tucson both lag behind pre-recession employment levels. Unemployment claims are down and net worth of Americans is higher than ever.
So why aren't we feeling the recovery yet?
The multi-part answer to that question is found in the GDP staying below 3% for 9 straight years. GDP needs to grow faster than 3% to reduce the GDP Gap. The sluggish growth and post-recession gap represents a $1.5 trillion gap, or a difference in spending power equivalent to $4,700 per person annually. We can feel that.
Renter households increased by 8 million over the past 10 years while homeowner households have decreased by 2 million. The homeownership rate is at a 1995 level. Although Tucson's home price index is up over the past three years it is a modest increase compared to Phoenix.
The reason we're not feeling a recovery steams to the very sluggish housing and commercial market recovery. Housing starts are rising, but slowly, construction is down despite the fact that the time to sell a new spec home has decreased from 14-months (2010) to 3-months on average in 2013 and 2014.
Some economists have not yet understood the cause of the housing collapse and are becoming anxious that the recovery may be over – already. Yun does not believe this to be the case and sights reasons for a multi-year expansion of the housing market driven by:
Job Growth
Manageable Mortgage Rates
Population Pent-up Demand
More Inventory, and
Record-High Household Wealth
As for QE monetary policy, Yun predicts that rates will rise, the zero rate policy of the past 6-years has only one way to go. He predicts mortgage rates reaching 6% again by 2016 and starting to go up again by this Summer, or sooner.
Credit availability will escalate as FHA premiums decline and mortgage default rates are at historic lows from 2010-2014, in addition to the shadow inventory having been mostly cleared out in Arizona.
All this adds up to Tucson and Arizona in general being poised for growth, even if we're not feeling it right now.
To see the full slide show presentation of Dr. Yun Tucson (Feb 2015) click here.