TAR: Tucson Housing By The Numbers June 2017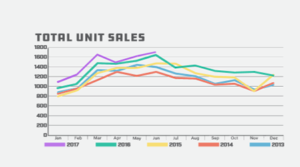 Tucson Association of Realtors (TAR) released stats for June this week. The Average Sales Price of $238,245 is a slight decrease of 0.83% from last month's number of $240,249 in June.
The Average Selling Price compared to one year ago is still up by 1.49% from $234,752 to $238,245. While the Median Sales Price increased to $200,000 from $195,000 last month and increased 5.26% from last year.
Total sales volume of $399 million increased 3.36% from May's number ($386 million) and is up 3.78% from June 2016.
Unit sales month-over-month shows 1,675 homes sold in June compared to 1,607 in May, an increase of 4.23% and up 2.26% from June 2016 (1,638 home sales).
Total Pending Home Sales in the pipeline shows even more optimism, with 2,230 listing under contract at the end of June.
The highest activity continues to be in the Northwest area this month with 447 homes sold this month and 2,315 homes year-to-date, followed by the Central submarket with 233 homes sold and 1,161 homes year-to-date
Highlights from TAR's Residential Sales Report:
New Listings increased slightly this month by 0.64% and by 6.83% from 2016.
Total Active Listings of 3,625 is an increase of 1% from last month.
Average Days on Market of 44 is a decrease from 46 last month.
Conventional loan sales of 43% exceeded Cash Sales of 23.6%
Refer to full June sales report for graphs and additional information at:
Full Tucson MLS sales report: statsjune2017
Tucson Rental statistics: statsrentjune2017
View TAR's numbers at a glance infographic: June Infographic