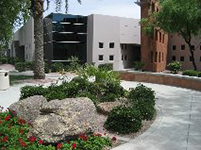 PHOENIX, AZ – Colliers International in Greater Phoenix used its brokers' connections to bring about the completion of the $6.25 million ($178 PSF) sale of the Technology Center at Talavi, a Class A multi-tenant and medical office building in Glendale.
Phoenix Heart Realty LLC of Glendale purchased the property, located at 5859 West Talavi Boulevard, from Credit Union West of Glendale.
"Tyler Smith's in-depth knowledge of the office and medical office building market in the West Valley as a vice president at Colliers helped to bring the buyer," said Marcus Muirhead, an associate vice president at Colliers.
Smith represented Phoenix Heart Realty along with the Colliers Muirhead-Guglielmino-Gonzalez Investment Team, led by Muirhead, Greg Guglielmino, senior associate, and Steve Gonzalez, senior vice president. The listing agent was Brian Ackerman, senior vice president, with Jones Lang LaSalle in Phoenix.
"Phoenix Heart was a tenant and occupies the majority of the building," said Muirhead, adding, "From a strategic and long-term-growth plan it makes perfect sense for Phoenix Heart to own the building, rather than rent."
Built in 2000, the Technology Center at Talavi is comprised of 35,904-square-feet on approximately 4.07 acres. The property is 100 percent leased by Blue Chip tenants such as Phoenix Heart, Wallick and Volk and the John C. Lincoln Health Network. Limited rollover is expected for the next several years.
The property is situated at the Bell Road main entrance of the Talavi Business Park, which has a total of 67-acres of Class A office properties. The development is positioned halfway between the Loop 101 and I-17.
Colliers International's Muirhead-Guglielmino-Gonzalez Investment Team specializes in representing clients in the acquisition and disposition of general office and medical properties in the Phoenix Market. The focus is to help clients expand, not just complete transactions. The team provides advisory and consulting investment services.
For more information contact the Colliers Muirhead-Guglielmino-Gonzalez Investment Team at 602-222-5000.