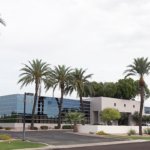 Telgian, Inc. Doubles Operational Footprint, Will Relocate Corporate HQ
Phoenix, AZ – CBRE has negotiated the purchase of the Phoenix Tech Center property located at 10230 S. 50th Place in Phoenix. The buyer, Telgian, Inc., will relocate its corporate headquarters to the new facility.
Cooper Fratt, John Werstler and Jerry McCormick brokered the transaction on behalf of Telgian, helping the fire-industry leader accommodate the company's growing operation as well as completing a 1031 Exchange in the process.
"Telgian is an industry leader and was in need of a larger facility due to growth the company has experienced in recent months," said CBRE's Fratt. "Given the current supply of available product on the market, it was a challenge to line up the timing of both transactions. However, we were able to overcome those challenges. The Phoenix Tech Center facility fits all of Telgian's expansion needs and will also accommodate additional growth in to the future."
Previously located in a 20,000-square-foot property located at 2615 S. Industrial Park Avenue in Tempe, Telgian's new facility totals more than twice that at 40,650-square-feet and will house the company's corporate headquarters.
Prior to purchasing the Phoenix Tech Center property, the CBRE agents represented Telgian in the sale of the 2615 S. Industrial Park property, which was sold to Medone Healthcare, LLC of Tempe for $1.54 million. Telgian was then able to purchase the Phoenix Tech Center facility via a 1031 exchange for just over $3.65 million.
To learn more Fratt should be contacted at 602.735.5555, Werstler can be reached at 602.735.5504, and McCormick can be called at 602.735.5265.