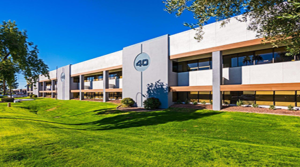 Cushman & Wakefield Negotiates Sale to Dunbar Real Estate Investment Management
PHOENIX,  Arizona – Cushman & Wakefield announced that Dunbar Real Estate Investment Management of El Segundo, Calif. purchased Mill Avenue Business Park, located at 40 E. Baseline Road, 5030 S. Mill Avenue and 5005-5025 S. Ash Avenue in Tempe, Ariz., from Birtcher Anderson Realty of San Juan Capistrano, Calif. for $14.25 million ($106 PSF).
Bob Buckley, Steve Lindley and Tracy Cartledge of Cushman & Wakefield Phoenix negotiated the transaction on behalf of the seller.
Mill Avenue Business Park is a 134,886-square-foot business park with a strong presence on both Mill Avenue and Baseline Road – two major arterials in Tempe. Built in 1983, the seller recently invested $1.3 million in capital improvements. Currently 87.7% occupied, the business park draws a wide-range of office, industrial and retail uses, including the legal, healthcare, professional services, tech, telecommunications, fitness, and foodservice industries.
"Birtcher Anderson made some excellent improvements to the property, including engaging with its Mill Avenue frontage. With strong potential for rent growth and higher occupancy, Mill Avenue Business Park should be a strong strategic investment for Dunbar," said Buckley.