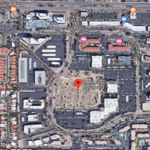 TUCSON, ARIZONA — Daniela Gallagher,  Vice President, Economic Development at Sun Corridor broke the news of a new Texas Instruments project coming to 301 South Williams Blvd in Tucson Thursday at the Pima County Research Council meeting. Previously to this only known by the code name "Project Treasure".
Texas Instruments, Inc. of Dallas, Texas closed on the last remaining 8.28-acre parcel at the Williams Centre for $4.96 million ($13.75 PSF). A Texas Instrument spokesman told us the company plans to construct a 125,000-square-foot, three-story building on the site for the 300-330 fluctuating number of employees currently working at the 5411 E Williams Blvd. facility.
The new facility is to be built at a cost of $29 million to allow expansion and plans to add an additional 35 jobs over time, increasing employment opportunities in the area for electrical engineering, financial managers, electrical and electronics technicians, general administration, operations managers and financial specialists.
The company has been operating in Tucson since 2000, when it acquired Burr Brown Research Corporation.
Earlier this month, the City Council approved an unnamed company's request for incentives under the Primary Jobs Incentive program, which requires companies to invest at least $5 million in facilities or equipment, create at least 25 jobs that pay wages of $52,400 or more and cover at least 75 percent of employee health insurance premiums.
Reimbursement of permit fees were valued at $81,000 and offsets to impact fees for the project or job training were estimated at $338,364 for the development dubbed "Project Treasure," filings with the city show.
"A project assessment prepared for Sun Corridor Inc. showed that from 2019 to 2023, Texas Instruments' economic impact is projected at more than $1 billion," Daniella Gallagher said. "The economic impact of the company's investment is expected to be $68 million over the next five years."
The seller was Kent Circle Partners and Seldin Real Estate, Inc of Scottsdale (Scott Seldin, manager). "Texas Instruments wanted to stay in the William Center area," Seldin told us.  "We were happy to oblige them with exactly what they wanted and are happy about the economic growth Tucson is witnessing."
Seldin still owns 250 S Williams Blvd. across the street occupied by Raytheon and the 5151 E Broadway tower nearby.
David Montijo and Damian Wilkinson with CBRE in Tucson handled the sale of the property for Seldin and Texas Instruments was self-represented.
To learn more, login and see RED Comp #6077.