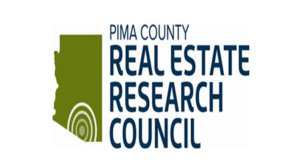 TUCSON, ARIZONA – Pima County Real Estate Research Council 3rd Quarter Meeting will be held August 16th and discussing The Amazon Project, how Amazon picked Tucson for one of its latest fulfillment centers.
Speakers will include Mike Levin, Executive Vice President of the Port of Tucson located in Century Park Research Center, Southeast of Tucson, Arizona where Amazon chose to build. Within the 767 acres of  Century Park is over 1.8 million square feet of existing warehousing, distribution and manufacturing facilities available. Build to suit with lease and purchase options are also available within Century Park.  Designated by the City of Tucson and Pima County as 'Shovel Ready' for custom built facilities such as Amazon. Century Park is also a designated and Active Foreign Trade Zone (FTZ 174, Site 2).  For companies that ship or receive goods internationally, there are tax and tariff benefits that can make your company more competitive in the global market another attraction for Amazon.
Daniela Gallagher,  Vice President, Economic Development at Sun Corridor. Daniela is responsible for the management of a wide range of economic development efforts, including location advisory to national and international companies looking to establish or expand their presence in Southern Arizona, such as Amazon. Before joining Sun Corridor Inc. in 2011, Daniela spent the majority of her career as a Certified Air Transport Manager and Logistics expert overseas. In this role, she coordinated day-to-day operations for international air carriers, including passenger and aircraft operations, by providing aeronautical science and air transportation principle expertise, a synergistic role with the Port of Tucson.
Carla Blackwell, Director of Pima County Development Services.The mission of Development Services is to contribute to our customers' success in building and maintaining safe and sustainable communities by providing helpful, timely and quality services.
Broker Roundtable to include:
Dave Volk (CBRE) – Office
John Carroll (Land Advisors) – Land
Max Fisher (PICOR) – Industrial
Kevin Volk (Volk Company) – Retail
Pima County Real Estate Research Council 3rd Quarter Meeting will be held August 16th, 2018 at Tucson Association of REALTORS® office, 2445 N. Tucson Blvd., Tucson, AZ.  7:30am – Registration (Free continental breakfast!) and 8:00am – 10:00am – Program
Free to all PCRERC members. Non-members are welcome to attend ONE meeting for $50.00. Membership is required to attend ANY additional meetings. If a PCRERC member is unable to attend the meeting, a member of his/her organization may be substituted; just let us know info@pcrerc.com.
CLICK HERE TO REGISTER for the Amazon Project on Thursday, August 16th.
The  mission of Pima County Real Estate Research Council (PCRERC) is to be an effective provider of information, education, insight and data resources to the Southern Arizona residential and commercial real estate community within a setting that promotes social networking to its membership. PCRERC is a private, not-for-profit entity, featuring a diverse membership of Real Estate Professionals & Business Leaders.