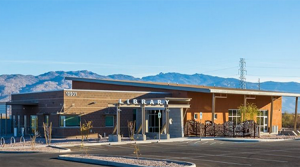 The first Pima County pu blic library branch, the W. Anne Gibson-Esmond Station Library is near Empire High School and connects to the trailhead at Esmond Station Regional Park at 10931 E Mary Ann Cleveland Way, Tucson, AZ 85747.
Karyn Prechtel-Altman is the deputy director of public services and community engagement for the Pima County Public libraries. She said the new library was designed to bring in a sense of community and sports detailed cut-steel scenes of Vail's history.
"It's a really large community and they've been pining for a library, justifiably, for decades," Prechtel-Altman said.
She said a county-wide bond to build the library didn't pass in 2015 so the community started advocating for the library and the library system started saving.
"On Tuesday, we actually had some people picking up some books and returning books, and people can place reserves now and pick them up. We're already seeing people come to the doors," Prechtel-Altman said.
The W. Anne Gibson-Esmond Station Library brings the number of libraries in the Pima County Public Library system to 27.
Though, it isn't fully open due to the pandemic, she said one day it'll rent laptop computers to members to use on-site. For now, it's open on weekdays from 10 a.m. to 5 p.m. for curbside holds pickup. All holds can be made online or by phone, (520) 791-4010.
The library is named after W. Anne Gibson, who the Pima County Public Library system calls a "tireless champion" when it came to bringing a library to the area.