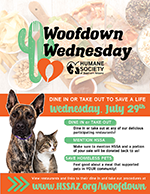 TUCSON, AZ –  On Wednesday, July 29th, The Humane Society of Southern Arizona will be hosting the 4th annual "Woofdown Wednesday" to raise money for homeless pets in need. Local restaurants will host simultaneous events to raise money for the Humane Society of Southern Arizona.  Dine in or take out at local participating restaurants for breakfast, lunch, dinner, or all three!
Restaurants such as Vero Amore, Village Bakehouse, Firehouse Subs and more will be donating a percentage of their profits from the day to the Humane Society. If you don't feel like leaving the house, but want to support HSSA and participating local restaurants, you can simply make a donation. All money donated will be used to purchase gift cards at the participating restaurants.
"Woofdown Wednesday has always presented a tasty way for people to support the work of the Humane Society of Southern Arizona. This year also presents a great opportunity to try a new restaurant or to support a long-time favorite that might be struggling during the pandemic.", says Randy Peterson, Director of Development, Marketing, and Communications.
Those who want to support are encouraged to visit the Humane Society of Southern Arizona's event web page to see the full list of participating restaurants at: www.hssaz.org/woofdown.