The Humane Society of Southern Arizona Appreciates Educators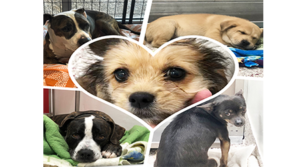 20192TUCSON, AZ – The Humane Society of Southern Arizona (HSSA) is hosting a week-long celebration July 8th through July 14th to thank Tucson's educators. In appreciation of all the hard work our educators put into the community, and in celebration of our 75th Anniversary, HSSA is offering sponsored adoptions for all employees that take part in education such as teachers, professors, principals, school faculty, and non-profit educators.
"We have been partnering with local educators for many years and it's one of our proudest accomplishments. Showing our gratitude through sponsored adoptions will allow shelter pets to find their forever homes and give them time to bond with their new family over summer vacation," says HSSA's Director of Education and Community Outreach, Inge Koopman-Leyva.
What are sponsored adoptions? Because of the gratitude and generosity of local businesses that support HSSA, sponsors offer to cover the cost of adopting a new family member. To take advantage of these discounts you only need to provide a business card, pay stub, proof of teacher retirement pension, or school photo identification card to show that you're an educator.
Sponsored adoptions are possible because of the generosity of Dermatology and Plastic Surgery of Arizona -Tucson, Truly Nolen Pest & Termite Control, and Mister Car Wash. As an added bonus Truly Nolen Pest & Termite Control will also be providing dog toys and bandannas to take home with your new furry family member. Sponsored adoption fees will only be available at HSSA Main Campus at 635 W. Roger Rd. Puppies and kittens under 6 months of age are not included in this sponsorship.
On Friday, July 12th educators are invited to HSSA's Top of the Class Teacher Social from 11am to 2pm at HSSA Main Campus at 635 W. Roger Rd. Educators will enjoy delicious food and drinks while mingling with Tucson's Top of the Class Educators! Attendees will receive a campus tour, early classroom registration for the 2019-2020 school year, humane education curriculum materials, introduction to the education ambassador animals and PET VIP therapy dogs, tote bag, book, and other exclusive giveaways. Registration is limited so RSVP now at www.HSSAZ.org/TEACH.
For more information on HSSA's 75th Anniversary events visit www.HSSAZ.org/75.