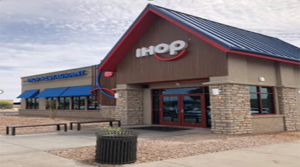 United Development and Christifulli Companies Complete two site sales at The Shops at Valencia
TUCSON, ARIZONA – United Development Company of Southlake, Texas and Christifulli Companies of Phoenix, Arizona recently sold an IHOP at 1963 W Valencia and Risas Dental and Braces at 1979 W Valencia sites at their Shops of Valencia project in Tucson Arizona.  The IHOP sale involved the sale of the leased fee interest in the land for $2.77 million ($65.39 PSF) to a Tucson investor and the Risas Dental and Braces built-to-suit site sold for $900,000 ($17.54 PSF).
Jamie Medress, a top producing Senior Managing Director of Investments for Marcus & Millichap in Phoenix, AZ, was the selling broker for IHOP.  Larry Cesare of Broadway Realty & Trust and Nicholas Christifulli of Christifulli Companies, were the selling brokers for the Risas Dental and Braces site.
The Shops at Valencia is located on the southwest corner of Valencia and Headley in the southwestern part of Tucson. The location is roughly 10-miles from downtown Tucson and the University of Arizona and less than 2-miles off I-19, which generates 60,000 cars a day. There are more than 117,500 daytime employees within a 5-mile radius. The project is approximately 11.3 acres and comprises seven retail pads. In addition to IHOP and Risas Dental and Braces the Shops will also include a new Dutch Brothers Coffee.
Christifulli Companies and their principals have worked with many national and local retailers and have developed strong ties with brokerage, retail, lending, municipal and development communities throughout the United States. Over the last decade, the principals and their respective partners have collectively completed 6 million square feet of retail space with a combined value in excess of $1 billion. Visit www.christfulli.com for more information.
United Development Company currently owns and manages more than $300 million of real estate investments.  Utilizing its wealth of both capital and real estate expertise, United Development is aggressively pursuing retail and self-storage real estate investments in the United States. Visit www.UDCGlobal.com for more information.
For more information, Christifull can be reached at 480.585.2150, Medress is at 602.687.6700, and Cesare should be contacted at 520.747.5700.
To learn more, see RED Comp #5918 and #5810.