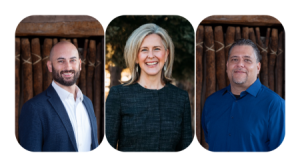 Tucson, AZ (November 8, 2023) – The Southern Arizona CCIM Chapter is delighted to announce its November monthly Lunch Meeting scheduled for Tuesday, November 14th, 2023. The event will feature Kristina Swallow, the recently appointed Director of Planning and Development Services for the City of Tucson, as the guest speaker. The presentation, titled "Tucson Planning and Development Services Your Partner to Success," will provide valuable insights into the city's ongoing efforts to enhance planning and development processes.
Joining Kristina Swallow will be Juan Garcia, Building Official, and Nick Ross, Zoning Section Manager, who will share updates on building permits and zoning regulations, respectively. Together, they will shed light on the measures being taken to streamline processes and foster collaboration within the community to support these initiatives.
Kristina Swallow brings nearly three decades of experience in engineering and management across various sectors, with a proven track record of successful leadership at the local, state, and federal levels. Her unique perspective, rooted in both the public and private sectors, positions her to contribute substantially to the City of Tucson's Planning and Development Services. As a Tucson native with a deep connection to the community, Swallow's strategic vision and extensive expertise are set to usher in a positive transformation.
Nick Ross, a native Tucsonan and graduate of the University of Arizona, has a decade of experience with the City of Tucson, including his role in contributing to Plan Tucson
and economic development. In his current role as Zoning Section Manager, he plays a pivotal part in the city's growth.
Juan Garcia, a Building Official for the City of Tucson, brings nearly ten years of experience in public service, with over two decades in the construction industry. His
expertise has been instrumental in the implementation of an electronic plan review process, remote inspections, and new permitting software. As a Tucson native, he is
deeply committed to enhancing the city's built environment.
Following the panel discussion, participants can attend a CE Credit renewal class titled "Ethics and the Commercial Licensee" in the category of Commissioner's Standards.
The course, scheduled to begin at 1:30 PM on November 14th, will explore the interdependence of the Commissioner's Rules, the Arizona Revised Statutes, and the
NAR Code of Ethics, taught by Instructor Pat Sheahan. To register and for more information about the Southern Arizona CCIM Chapter and upcoming events, please
visit Southern AZ CCIM Chapter - Meeting/Event Information.
PHOTO: (l to r) Nick Ross, Kristina Swallow and Juan Garcia.