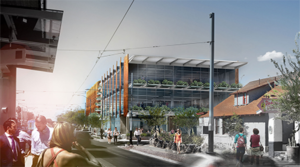 TUCSON, ARIZONA – A joint venture between R+R Development, LLC (Randi Dorman and Rob Paulus, members) and Bourn Properties, LLC (Don Bourn, manager), Trinity Project Investors LLC, closed on the first takedown from Trinity Presbyterian Church of Tucson for $700,000 ($21 PSF). The 33,198-square-foot lot is located along University Blvd. and will be used for office development.
The entire project dubbed 'The Trinity' bookends the eclectic Fourth Avenue Business District and the gateway to the University of Arizona. The Neighborhood shareholders and developers have met for seven years to come up with the best plan for everyone.  It will wrap around the historic church located at 400 E University Blvd. and include moving safely the duplex building in order to make room and save the historic structure.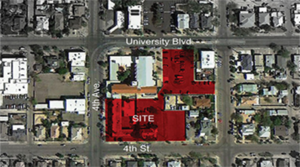 The Trinity combines the best of old and new in a premier mixed-use development with new residential, retail and hard-to-find creative office space.  The project will be in the center of the historic West University neighborhood, directly adjacent to two Modern Streetcar stops and is designed to be sustainable, modern, and authentic. Uniquely positioned between the core of downtown and the University of Arizona, the site is a mere 10-minute walk to either destination.
The project proposes two new buildings of three- and four-stories with ground floor retail, office space and rental units. It will replace unused buildings at the Trinity Presbyterian Church complex.
Phase one of The Trinity will be a 3-story office building totaling 25,035-square-feet of creative work space in naturally lit, modern architecture intended to attract and retain employees. Parking for the office users will be onsite and the building is next to both the the Tucson Modern Streetcar and the renowned Time Market.
In phase two, the second building on 4th Avenue will be an additional 54,403-square-feet of retail, office and residential use. When complete, The Trinity will offer over 9,000-square-feet of retail space with outdoor dining possibilities, over 25,000-square-feet of office space and 58 amenity-rich apartment units; all on the same block.
The Trinity mixed-use project is set to be the greenest urban development in Tucson, according to the award-winning team at Rob Paulus Architects.
Construction is expected to begin this fall with delivery next Summer on the office portion of the project.
For more information, Randi Dorman can be reached at 520.904.4242 and visit Rob Paulus.com
To learn more, see RED Comp #5818.