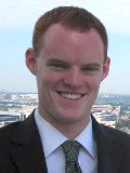 Volk Company is pleased to announce that Kevin Volk has joined the firm as a new commercial real estate agent.  Kevin is the third generation Volk in commercial real estate.  Kevin's grandfather, George Volk, started in commercial real estate in Tucson in the 1960s, and Volk Company,  was founded in 1987 by Rick Volk, Kevin's father.
Kevin will assist clients in all phases and types of transactions, including site analysis, development, project and individual space leasing, investment sales, land acquisitions, and strategic expansion.
Kevin, a native Tucsonan, brings a diverse background to the profession.  From Salpointe Catholic High School, he went east to Brown University, where he graduated magna cum laude in economics.  His path back to Tucson included stops in California, where he taught elementary school as a Teach For America corps member; Mexico, as a Fulbright scholar; and Virginia, where he worked in politics.
"I'm proud to be a part of Volk Company," Kevin said. "I've grown up with a strong interest in the industry, and it's exciting to be back in my hometown, especially in this time of energy and growth.  Professionally, I'm blessed to have the opportunity to learn from and work alongside people I've known for years and who are recognized as the best in the business."
For more information, Kevin Volk can be contacted at (520) 236-9003 or by email at kevinvolk@volkco.com