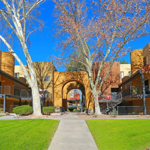 TUCSON, ARIZONA – Thrasher Law Offices, PLLC handled the sale of two apartment complexes with an aggregate value of $18.17 million.
Hamilton Zanze & Company of San Francisco, Calif. sold the Arches at Oracle Apartments at 5921 N Oracle Road in Tucson for $12.4 million ($86,111 per unit). The 144-unit complex sold to Oracle 5921 LLC of Scottsdale (Surinder Sidhu, manager).
The property, formerly known as Oracle Village Apartments, offers swimming pool and spa, volleyball and basketball court, and a clubhouse with WiFi access. The units consist of loft, townhome, and garden floorplans
In the second transaction, the Winthrop N Isaacsen Trust of Tucson sold the Rosemont Gardens Apartments at 5121 East 29th Street in Tucson for $5.765 million ($37,928 per unit). The 152-unit complex sold to RGCD Investments, LLC of Red Bank, NJ (Kenneth Motz, manager).
Two-story apartments were built in 1978 and 1983, and comprise 92 and 60 units respectively. The unit mix is approximately 68% one-bedroom and 52% two-bedroom units at Rosemont Gardens. Units are individually-metered for electricity. Hot water is provided by individual water heaters. The cost of water, sewer, and trash is partially reimbursed by tenant depending on number of occupants in each unit.
Thrasher Law Offices PLLC is a premier boutique law firm representing clients in corporate, real estate, and financial transactions throughout Arizona. With offices in Phoenix and Tucson, the firm offers a high level of service to clients throughout Arizona.
For more information, Thrasher Law Offices can be reached at 480.275.0543.
To learn more, see RED Comps #5238 and #5245.